HIRERIGHT'S 2013 HEALTH CARE SPOTLIGHT
Please provide us with some information about you and your organization, and download your free copy of the spotlight:
This HireRight Health Care Spotlight analyzes employer screening practices of human resources, talent management, recruiting, security, and safety professionals in the health care industry. It explores issues and trends to help organizations evaluate their own programs, and to identify both strengths and potential areas for improvement.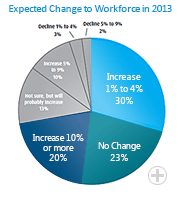 Optimistic Employment Outlook
Similar to last year, respondents had an optimistic hiring outlook for 2013 with the majority (73%) either expecting an increase in workforce size in the next 12 months.
Competition for Staff is the Top Talent Management Challenge
Nearly half of respondents (49%) reported that attracting and retaining experienced employees was the top talent management challenge. When asked for their top 2013 talent management initiative, a third of respondents (33%) selected employment screening programs and policies—a way that organizations are likely meeting these competitive challenges head-on.
Employment Screening Improves Quality of Hire, Compliance, and Safety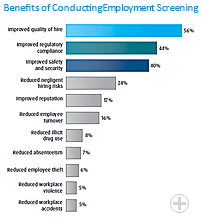 A majority of respondents (56%) believed that screening improves the quality of hire. Choosing an individual who is highly qualified and eligible to work in the health care industry will generally improve both the services delivered and the organization's brand in a positive way. Over two-fifths of respondents (44%) felt that screening improved regulatory compliance, followed by those who believed it improved safety and security (40%).
Discover the top security gaps, the impact to criminal check policy, a simple way to mitigate the risk of hiring an ineligible employee, and ways to reduce the administrative costs and risks through drug/health testing and employment eligibility (I-9) best practices by downloading the complete, complimentary report here.