Get your complimentary copy of the
2016 Transportation Spotlight Report!
HireRight 2016 Transportation Spotlight
From the HireRight Annual Employee Background Screening Benchmark Survey
The 2016 Transportation Spotlight Report includes input from human resource, recruiting, safety and security professionals geographically dispersed throughout the United States. The report provides valuable insights on key industry trends and best practices in background screening. A complete review of the methodology can be found in the Survey Overview and Methodology section
Here are a few highlights from the Report: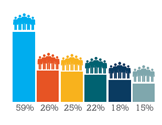 Top Business Challenges
Finding, retaining and developing talent remains the top business concern cited by 59% of survey respondents. The driver shortage will continue to worsen as the industry experiences growth and more employees retire.

Recruitment Strategies
Organizations are increasing their use of multi-pronged recruiting strategies with an emphasis on digital technologies to attract a younger audience.
Primary Reasons Drivers Are Leaving
Pay was the cited as the number one reason drivers are leaving, followed closely by spending more time at home and better benefits. Many drivers are leaving to work in other industries due to the challenges of dealing with heavy regulations.
For more insights into policies, programs, and driver recruiting and retention strategies, complete the form on the right to
download your complimentary copy of the 2016 Transportation Spotlight Report
.