Is your company vulnerable to a class action lawsuit? Unfortunately, in most cases the answer is "YES". And now is the perfect time for companies to take stock of potential opportunities to fortify their compliance with the broad range of laws that govern the employment screening process.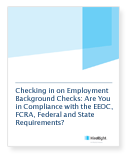 With the approaching 50th anniversary of the Civil Rights Act of 1964, the Equal Employment Opportunity Commission (EEOC) is stepping up their enforcement efforts and recently filed two new criminal record lawsuits and announced that this is "the latest in a series of systemic cases the Commission has filed to challenge unlawful hiring practices." In addition, there have been significant spikes in class action lawsuits against employers under the Fair Credit Reporting Act (FCRA) alleging inadequate disclosure and authorization forms and allegedly deficient procedures for providing candidates with the requisite "adverse action" notices.

The paper covers the following important issues:

EEOC's new guidelines including a summary of recent lawsuits
Class litigation against employers under the FCRA
Recent state and local developments, such as "ban the box"
How to meaningfully assess your screening program
Discovery questions to determine potential areas of risk

Opportunities to Fortify Compliance with Federal, State, and Local Law
Download Now! Checking in on Employment Background Checks: Are you in Compliance with the EEOC, FCRA, Federal and State Requirements?
>>
Download This Free White Paper Now!