DOWNLOAD THE LEGISLATIVE ALERT NOW!

Employers impacted by the new CORI Reform law face a myriad of new requirements to stay compliant with the new regulations.

In this HireRight Legislative Alert, we'll cover the key changes to CORI access and new the requirements employers should be aware of to help ensure compliance.


In this legislative alert you will learn:
The limits on CORI report contents
New compliance requirements for employers

Record keeping requirements and potential penalties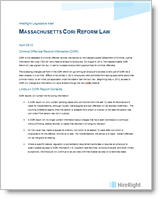 About HireRight

|

Contact Us



Copyright © 2011 HireRight, Inc. All Rights Reserved